News
2 PhD Positions on Sustainable Water Governance in Central Asia at MLU Halle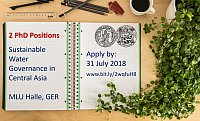 We are currently hiring two PhD candidates at the Department of Agricultural, Environmental and Food Policy of the Martin Luther University Halle-Wittenberg (MLU Halle), Germany. The PhD candidates will work within a newly approved SUSADICA project (Sustainable Agricultural Development in Central Asia) funded by the Volkswagen Foundation and implemented in partnership with the Leibniz Institute of Agricultural Development in Transition Economies (IAMO), Samarkand Agricultural Institute (SamAI) and the Regional Environmental Center for Central Asia (CAREC). The two proposed research topics for the positions at MLU Halle are Nested and multi-level analysis of water governance and Linking patterns of property rights in land and water. Methods from institutional economics and natural resource governance will be applied for conducting research in this project (see more info on the research areas at https://bit.ly/2KMFH4Q .).
The structure of the project offers an exciting opportunity for a nice international and inter-disciplinary collaboration - there are in total 10 PhD positions in the project that will have research stays both in Central Asia and in Germany. Here is the link to the detailed vacancy announcement: http://bit.ly/2wqfuH8 .
The applications with required documents (see the link above) should be sent via email to susadica[at]iamo.de by 31 July 2018. Candidates with particular interest in the positions at MLU Halle are welcome to copy Prof. Dr. Insa Theesfeld (insa.theesfeld[at]landw.uni-halle.de) and Dr. Ilkhom Soliev (ilkhom.soliev[at]landw.uni-halle.de) in their application emails. There are contact details in the announcement for any inquiries, but we are also glad to help with questions particularly in relation to the positions at MLU Halle.
---
---