Silke Helfrich Guest Lecture
Conmons activist, author and founder of the "Commons Strategies Group" Silke Helfrich will give a lecture in the Module "Gemeingütermanagement".
28th November 2017 8:15 a.m. , von-Danckelmann-Platz 3 SR 1.09, Weinberg Campus
Topics to be discussed will be: fainating examples of commons management. What does communing mean and why do some resources even increase if we share them.
More discussion with Silke on her blog: https://commons.blog/
All interested students are welcome- please inform us with a short email to the department of your intention to participate: anja.redlich@landw.uni-halle.de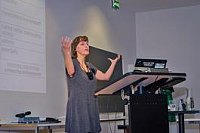 Silke Helfrich, given her keynote at the IASC European conference Commons in a "Glocal" World: Global Connections and Local Responses, 2016 in Bern
Silke Helfrich (Germany) has studied romance languages and pedagogy at the Karl-Marx-University in Leipzig. Since mid of the 1990s activities in the field of development politics, from 1996 to 1998 head of Heinrich Böll Foundation Thuringia and from 1999 to 2007 head of the regional office of Heinrich Böll Foundation for Central America, Cuba and Mexico focusing on globalisation, gender and human rights. Since 2007 she works as independent author and activist, working with a variety of international and domestic partners.
Helfrich is the editor and co-author of several books on the Commons, among them: Who Owns the World? The Rediscovery of the Commons, Munich 2009 (in: Genes, Bytes y Emisiones. Bienes Comunes y Ciudadania, Mexico-City 2008), editor of Elinor Ostrom: Was mehr wird, wenn wir teilen, Munich 2011; with Heinrich-Böll-Foundation: Commons. Für eine neue Politik jenseits von Markt und Staat, Bielefeld 2012 (together with David Bollier: The Wealth of the Commons beyond Market and State, Amherst/MA, 2012) and in 2015: Patterns of Commoning.
---
---