---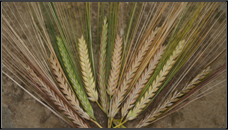 ---
---
Kontakt
Dr. Claudia Flügel
Telefon: +49 345 55 22 682
Telefax: +49 345 55 27 222
claudia.fluegel@sciencecamp...
Betty-Heimann-Straße 3
06120 Halle (Saale)
Adresse
---
---
Login für Redakteure
---
Genome Research Working Group Conference of the GPZ

The Genome Research Working Group (AG) of the German Society for Plant Breeding (GPZ ) will hold its 10. biannual Conference on Plant Genome Research in collaboration with the Interdisciplinary Center for Crop Plant Research (IZN), Halle and the ScienceCampus Halle - Plant-Based Bioeconomy (WCH ).
The conference will take place from 18. - 20. September 2012 at the Campus Heide-Süd of the Martin-Luther-University Halle-Wittenberg.
The theme of the 2012 conference is Plant Stress and Genomics
A number of six internationally well-known keynote speakers will present current progress in plant genome research. In addition, approximately 20 oral presentations will be selected from the participants to discuss recent advances on topics like biotic and abiotic stress responses, genetic diversity and recent developments in plant breeding.
We invite representatives from all plant breeding sectors to participate in discussing future contributions of plant breeding to achieve a sustainable production of the major four crop commodities - food, feed, fiber and fuel - in a growing world population.
The conference language will be English. Please register online and submit your contributions, i.e. abstracts for poster or oral presentations. In addition, an industry exhibition will provide companies involved in plant breeding and plant analysis the opportunity to present their products and services. For more information please contact the conference organizers.
On behalf of the local organizing committee we look forward to meet you in Halle!
Klaus Pillen, Holger Deising, Andreas Graner, Claudia Flügel
---
---
---