---
---
---
---
Kontakt
Dr. Anja Raschke
Telefon: Büro 0345-55 22 664
Telefon: Labor 0345-55 22 674
Telefon: Sekretariat 0345-55 22 661
Telefax: 0345-55 27 120
anja.raschke@landw.uni-hall...
Raum 1.04
Betty-Heimann-Str. 3
06120 Halle
Postanschrift:
Dr. Anja Raschke
06120 Halle
---
---
Login für Redakteure
---
Homepage Anja Raschke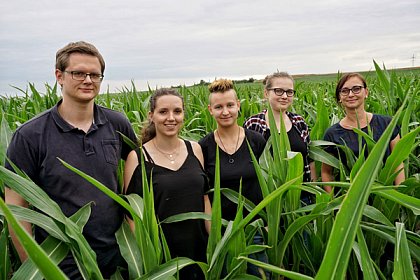 left to right: Nils Holzer, Jessica Heilmann, Lea Polzer, Michelle Marofke & Anja Raschke
Student projects (B.sc. and M.sc.theses)
A main focus of our work is on regulation of iron upatake and homeostasis during the hemibiotrophic lifecycle of Colletotrichum sp. and their host plant interactions. If you are interested in the way how phytopathogenic fungi can invade their host plants and how those can figth against such an attack there are always opportunities to participate in ongoing research projects.
In the course of your project you will get familiar with a range of molecular and biochemical techniques, as well as the phenotypical analysis of fungal mutant strains.
Interested? Please contact Anja Raschke for more information.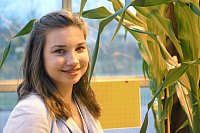 Veronic Grätz (M.sc. Crop sciences)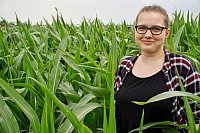 Michelle Marofke (M.sc. Biology)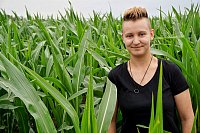 Lea Polzer (M.sc. Crop sciences)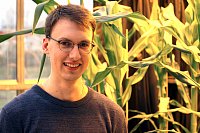 Immanuel Töpfer (B.sc. Agricultural sciences)
Alumni
Jessica Heilmann (PhD)
Nils Polzer (B.sc. Agricultural sciences)
Josefine Weiß (B.sc. Agricultural sciences)
Maximillian Forchert (M.sc. Crop sciences)
Stephan Rohrbach (B.sc. Biochemistry)
Kai Warnecke (B.sc. Agricultural sciences)
Mario Lange (Research assistant)
Majorie Aubert (B.sc. 'Integrative Biology and Physiology', Université Paris-Saclay, France)
Publications
Deising HB, Amorim R, De Oliveira Silva A, Raschke A, Eisermann I, Wirsel SGR, Csuk R, Schmitz L, Arnold N. Antagonistic Microorganisms in Plant Protection: Consumers' Friends or Foes? (Deising, H. B. et al., eds.). (2019)
Nordzieke D, Sanken A, Antelo L, Raschke A, Deising HB, Pöggeler S (2019) Specialized infection strategies of falcate and oval conidia of Colletotrichum graminicola. Fungal Genet Biol.
Serbian I,Wiese J, Raschke A, Deising HB, Csuk R (2019) Streamlined synthesis of (R, R)-rhizoferrin, (S, S)-rhizoferrin and (R, S, R)-staphyloferrin A. Phytochem Lett. 33, 64-69.
Gillmeister M, Ballert S, Raschke A, Geistlinger J, Kabrodt K, Baltruschat H, Deising HB, and Schellenberg I (2019) Polyphenols from Rheum-roots inhibit growth of fungal and oomycete phytopathogens and induce plant disease resistance. Plant Dis. 103, 1674-1684.
Raschke A, Ibáñez Robles C, Ullrich KK, Anwer MU, Becker S, Glöckner A, Trenner J, Denk K, Saal B, Sun X, Ni M, Davis SJ, Delker C, and Quint M. (2015) Natural variants of ELF3 affect thermo-morphogenesis by transcriptionally modulating PIF4-dependent auxin response genes. BMC Plant Biol. 15, 197.
Delker C, Pöschl Y, Raschke A, Ullrich K, Ettingshausen S, Hauptmann V, Grosse I, and Quint M (2010). Natural variation of transcriptional auxin response networks in Arabidopsis thaliana. Plant Cell 22, 2184-2200.
Delker C, Raschke A, and Quint M (2008). Auxin dynamics: the dazzling complexity of a small molecule´s message. Planta 227, 929-941.
Job History
2014 – Present
Postdoctoral Scientist, Martin Luther University Halle-Wittenberg (MLU), Germany
2013 – 2014
Parental leave
2012 – 2013
Postdoctoral Scientist (Dept. of Forest Genetics and Plant Physiology – Lars Hennig), Swedish University of Agricultural Sciences (SLU), Uppsala, Sweden
2007 – 2012
PhD Biology (Dept. Stress and Developmental Biology – Marcel Quint), Leibniz Institute of Plant Biochemistry (IPB), Halle (Saale), Germany
2001 – 2006
Diploma in Biology (Dept. Plant Genetics – Ulla Bonas), Martin Luther University (MLU), Halle-Wittenberg, Germany

---
---