News
Prof. Theesfeld took over presidency of the IASC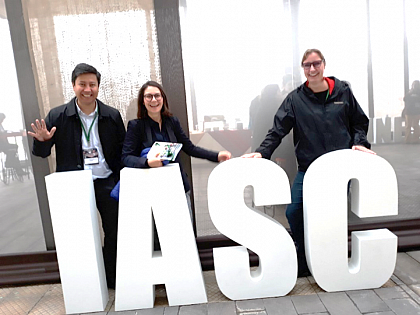 Photo: IASC Meeting in Peru, 2019: Ilkhom Soliev (Communications Officer), Beril Ocaklı (Early Career Network Initiator) and Insa Theesfeld (President-Elect).
On January 15, 2021, Prof. Theesfeld has taken over the presidency of the International Association for the Study of the Commons (IASC). After eight years of being an IASC council member of this leading professional association dedicated to the commons, she will serve in this new role for the next two years. Prof. Theesfeld starts her new role not in easy times, as bringing an international organization that thrives from personal interaction and exchange through the times of the COVID pandemic restrictions is incredibly challenging. Even more so is addressing most burning issues of our society, starting from regulating global commons to understanding new commons and digital commons, all of which are receiving an increasing importance and attention. Instead of the previous focus, when scholars mainly studied fair appropriation of resource units of various kinds, Prof. Theesfeld's view is that the current attention may shift towards questions of how the world community has to organize the provision of various resource systems. This includes the latest challenge of a fair vaccine availability for all countries and population groups on our planet, as global public health is likewise a commons. Prof. Theesfeld considers these as future "commons questions", to addressing of which the IASC is responsible to contribute. She believes that now, more than ever, particularly the theoretical training of commons scholars and practitioners' know-how can support solutions to help the world community out of many challenging socio-ecological situations. Under the leadership of Prof. Theesfeld and her team at the IASC Council and MLU, the year will be full of exciting activities.
Are you interested in governance of shared resources? If yes, take a look at these events and consider joining one of them or even becoming a member (if not already).
---
---