Plant Nutrition (Peiter lab) Pflanzenernährung
Picture of the Month (on the right)
Hooray! We have a new Plant Nutrition group picture.
---
Welcome to the Plant Nutrition Laboratory!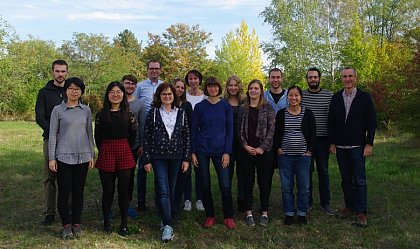 The Plant Nutrition group, September 2019
Mineral nutrients play many essential roles in plants as building blocks, catalysts and signalling agents. Our group focuses primarily on the way nutrients are transported and how this determines their function, but we also work on other aspects of plant nutrition.
On our web pages you can find out more about us, our goals, and our achievements.
In Germany, the scientific area of Plant Nutrition is represented by the German Society of Plant Nutrition. Click here to access the web pages .
---
Willkommen bei der Professur für Pflanzenernährung!
Mineralnährstoffe spielen in Pflanzen essentielle Rollen als Bausteine, Katalysatoren und Signalstoffe. Unsere Arbeitsgruppe interessiert sich in erster Linie für den Transport und die Funktionen von Pflanzennährstoffen, aber auch für andere Aspekte der Pflanzenernährung.
Auf unseren Webseiten können Sie mehr über uns, unsere Ziele und unsere Fortschritte erfahren.
In Deutschland wird das Wissenschaftsgebiet der Pflanzenernährung durch die Deutsche Gesellschaft für Pflanzenernährung vertreten. Folgen Sie diesem Link, um zu deren Webseiten zu gelangen.
Leider existieren die meisten Seiten momentan nur in englischer Sprache. Im Verzeichnis sind deutsche Seiten mit (D) markiert.
---
News - 14 February 2021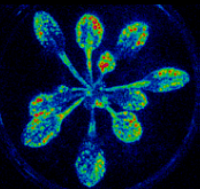 14 February 2021
Paper on a new player in systemic signalling
Plants respond to wounding and insect attack with a rise in their internal calcium concentration. These "calcium signals" propagate throughout the plant and inform yet intact plant parts of the stress, so that the entire plant can launch defense responses. It is not well understood how those calcium signals are produced. The protein Annexin1 has been known to exhibit calcium channel activity. A new study, led by Axel Mithöfer at the MPI for Chemical Ecology in Jena, with calcium imaging experiments from our lab, shows that Annexin1 is an important player in the plant's defense responses. Plant devoid of Annexin1 were defective in the generation of systemic calcium signals, had a dimished hormone response, and did not fend off attacking insects. The article is published in New Phytologist and can be accessed here .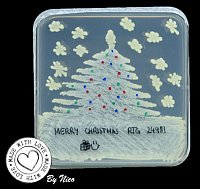 Microbial Christmas! Experiment and Photo: Nico Rössner.
December 2020
Merry Christmas and a Happy New Year!
The Peiter lab wishes to all its members, alumni, students, and friends a peaceful Christmas and all the very best for 2021 - including the defeat of a spiky intruder that currently wreaks havoc everywhere.
17 November 2020
New microscope!
Our fancy new AxioZoom fluorescence zoom microscope has been installed today. Owing to its high aperture, the fast switching filters, and its super sensitive Hamamatsu Orca Flash sCMOS camera, this system will propel our capabilities of mesoscopic fluorescence imaging, for example of systemically spreading calcium signals in plants.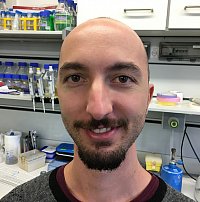 1 October 2020
Benvenuto Lorenzo!
Today, Lorenzo Massini has arrived from Italy for a lab internship. Lorenzo is a graduate student of Plant Biotechnology at the University of Turin and will join our postdoc Santiago to reveal mechanisms of manganese efficiency and transport in plants.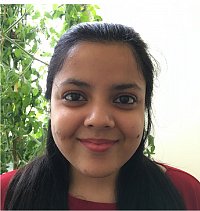 1 October 2020
Welcome Srijana!
Today, Srijana Rai started her PhD in our lab. Srijana previously obtained an MSc in Plant Science at the University of Bonn, where she worked on a dessication-tolerant plant in the lab of Dorothea Bartels. In her PhD project, Srijana will study how plants generate systemic calcium signals, that propagate in waves through the plant and thereby inform the whole plant body about looming disasters.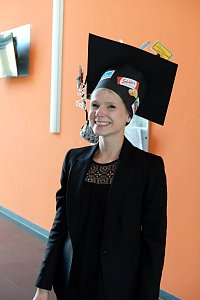 Graduation of Victoria Maaß
13 July 2020
Congratulations, Dr Maaß!
Today Victoria Maaß (née Kiep) very successfully defended her PhD thesis on the establishment of a plant-based system for identifying phytoeffectors and the analysis of phytoeffector targets under abiotic stress. Her project was part of the thriving associated institute Agrochemisches Institut Piesteritz. Victoria now works as crop production specialist in an agricultural extension service association . We wish Vicky all the very best for the future and say a big Thank You for her contributions to our lab.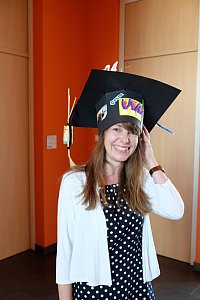 Graduation of Nancy Zimmermann
07 July 2020
Congratulations, Dr Zimmermann!
Today Nancy Zimmermann (née Nowak) very successfully defended her PhD thesis on the impact of the polyamine spermine on calcium signals and drought responses in barley. Her project was part of the fruitful IZN consortium. Nancy has already joined the Plant Physiology group, where she supports teaching and research on stress responses and senescence of barley and Arabidopsis. We wish Nancy all the very best for the future and say a big Thank You for her contributions to our lab.
26 March 2020
Review on manganese in plants
In plants, manganese is of extraordinary importance for photosynthesis, and also crucial for other important biochemical reactions, including oxidative stress defense. All those reactions take place in specific cellular compartments and different parts of the plant. Many transport proteins, belonging to diverse proteins families, have been identified in a number of plant species to translocate manganese from soil to its targets. In this review, we provide an extensive overview of all aspects related with the acquisition and distribution of manganese in plants, as well as a compilation of the roles of manganese in plants described so far. We particularly focus on the allocation of manganese on cellular and subcellular level. This topic is very timely because the picture of plant manganese transport is still rather sketchy and requires an inventory of what we know and which steps are still unresolved. This compilation of our current knowledge on manganese transport will be a very useful tool for scientists and researchers in the field of plant nutrition, as well as in other disciplines. The review is published in Frontiers in Plant Science and can be accessed here .
24-25 February 2020
Talk at Plant Nutrition Meeting
Edgar Peiter presented a talk on manganese transport in plants at the 4th Plant Nutrition, Growth & Environment Interactions meeting at Vienna, Austria.
21-22 February 2020
Talk at Plant Physiology Meeting
Stefanie Höller presented a talk on the roles of CDF transporters in plants at the 18th Central German Plant Physiology Conference at Jena.
28 January 2020
Review on calcium transport in fungi
Calcium is a universal signalling element in all organisms, including fungi. It is essential for development as well as for the initiation of responses to environmental cues. The maintenance of calcium homeostasis and the generation of calcium signals relies on a set of calcium transport proteins: channels, transporters, and pumps. The physiological roles of these proteins have been mainly investigated in some model species, such as baker's yeast, and are believed to be largely similar in all fungi. This assumption is questioned in a new review article, in which a comparative survey of mutant phenotypes of known calcium transport proteins in a wide range of fungi was undertaken. This approach revealed that the involvement of some calcium transport proteins in growth and stress resistance differs widely between fungal species, while the roles of others are more conserved. This calls for a cautious use of the "seen one, seen them all" principle and for mechanistic studies in non-model species. Our survey demonstrates that components of the calcium signalling toolbox may be employed differently in different, but related, organisms and that results may not always be extrapolated from one fungal species to another. The review is based on the dissertation of Mario Lange, a former PhD student in our lab. It is published in Frontiers in Microbiology and can be accessed here .
17 January 2020
Talk in Bonn
Edgar Peiter presented a seminar on our work on calcium transport and signalling in the Botanical Colloquium of the Institute of Cellular and Molecular Botany at University of Bonn.
---
Contact
Kontakt
Professur für Pflanzenernährung
Betty-Heimann-Strasse 3
06120 Halle (Saale)
Telefon: ++49 (0) 345 5522420
Telefax: ++49 (0) 345 5527113
plant.nutrition@landw.uni-halle.de
---
---