Past Activities
Dr. Ilkhom Soliev took part in TU Berlin' graduation ceremony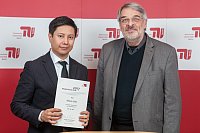 On 15 December 2017, an academic graduation ceremony took place for graduates who defended their Doctoral (PhD) and Postdoctoral (Habilitation) degrees at TU Berlin in 2016 and 2017. Our colleague Dr. Ilkhom Soliev attended the event where TU-President Prof. Dr. Christian Thomsen awarded his Doctoral degree in Economics (Dr. rer. oec.). Dr. Soliev's advisor at TU during 2012-2016, Prof. Dr. Volkmar Hartje (pictured with Dr. Soliev), whose initiative started the tradition of graduation ceremonies at TU, was also an honored guest of the event.
AGRITIP Stakeholder Meeting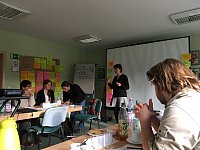 More than 20 participants from agricultural enterprises, administration and science met on 23 November 2017 at the Tourist Information Center in Prieros, Dahme-Heideseen Municipality, to discuss the research concept of AGRITIP. On the part of the Chair of Agricultural, Environmental and Food Policy, Frauke Pirscher participated in the meeting.
Silke Helfrich Guest Lecture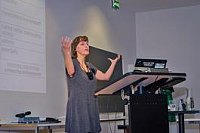 Silke Helfrich, given her keynote at the IASC European conference Commons in a "Glocal" World: Global Connections and Local Responses, 2016 in Bern
Conmons activist, author and founder of the "Commons Strategies Group" Silke Helfrich will give a lecture in the Module "Gemeingütermanagement".
28th November 2017 8:15 a.m. , von-Danckelmann-Platz 3 SR 1.09, Weinberg Campus
Topics to be discussed will be: fainating examples of commons management. What does communing mean and why do some resources even increase if we share them.
More discussion with Silke on her blog: https://commons.blog/
All interested students are welcome- please inform us with a short email to the department of your intention to participate: anja.redlich@landw.uni-halle.de
Excursion with water governance students to the waste water treatment plant North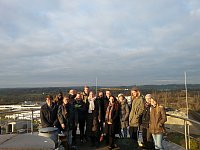 For a successful and sustainable governance system of natural resources we also need to consider the technical requirements of the given infrastructure. Thus, we were curious to get some insights from the wastewater treatment plant in Halle North.
---
---